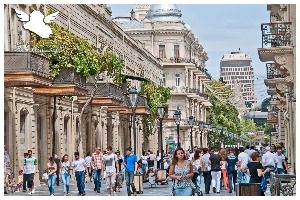 Azerbaijan Tourism
Our country was visited by million foreign tourists in 2016, making it the most popular tourist destinations such as Gabala, Ismayilli, Ganja, Oghuz, Gakh, Balaken, Zagatala, Guba, Gusar and etc in Caucasus region, in the world. Azerbaijan ranks in the first places in tourist sphere as per neighberhood countries. The number of tourists traveling Azerbaijan in 2016 increased by almost 11 percent compared to 2015. In the period of the first nine months of 2016 Azerbaijan welcomed 1.71 million tourists from foreign countries. Most tourists arriving to Azerbaijan in 2015 and 2016 came from the following countries: Saudiarabia, Qatar, Uae, Iraq, Bahrain, Oman, Iran.
With its rich culture, ancient history, high hospitality, Azerbaijan has great potential for the development of tourism. In recent years, great projects have been implemented in the country to develop tourism and modern infrastructure has been created. Decrees and orders were signed, state programs were adopted, important projects were implemented to ensure rapid development of the tourism industry.
"Simplification of Electronic Visa Procedures" Accelerated tourist flow to the Republic of Azerbaijan has had a significant impact on the development of tourism in the non-oil sector of the country.
Particularly during the past year, attention has been paid to the development of tourism. Structural reforms in this area have created opportunities to stimulate further activity.
Azerbaijan occupies a worthy place on the world tourism map. Tourists can enjoy a great holiday in our country in all seasons of the year. With the launch of the Shahdag Tourism Center and the Tufandag Winter-Summer Tourism Complex, the seasonal tourism in our country has disappeared. There are now world-renowned brand hotels in the capital and other cities, and the range and quality of services provided to tourists has been improving from year to year.
A number of CIS citizens can obtain a visa without a visa, while citizens of some countries can obtain a simplified visa for foreign tourists.
According to the "Strategic Roadmap for Developing Tourism Industry in Azerbaijan", the restructuring of health tourism demand for local and regional tourists, the promotion of winter tourism, the creation of cultural tourism routes, and the strengthening of sustainable tourism potential (rural tourism, ecotourism, etc.). appropriate work on the development of business tourism (MICE) continues.