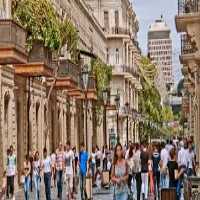 Azerbaijan among the safest countries in the world
International Economic Forum a list of the safest countries of world. Azerbaijan Republic ranks 18th (eighteenth) place among 141 (hundred fourty one) countries. According to the opinion of Forum, Finland is the world's safest country. Russia ranks 126th, Armenia 38th, Georgia 32nd place on the list. During the preparation the rating, the percentage of crimes, as well as the threat of terrorism and the relationships between law enforcement agencies and citizens.
Azerbaijan ranked 25th in the list of the safest countries in the world in 2018, according to the American public opinion poll.
The survey involved 148,000 people over 14 years from 142 countries, as well as 1,000 from Azerbaijan.
According to the survey, Azerbaijan scored 85 points. From the neighboring countries Georgia was 17, Armenia 69, Turkey 72, and Russia 98.
During the survey, residents were asked if they could walk alone in the city at night, were satisfied with the work of the police, and whether they had been attacked or robbed over the past 12 months.
As a result of the survey, the rating was compiled and Singapore was the leader. So Norway, Iceland and Finland are on the second place.
The top ten included Hong Kong, Switzerland, Canada, Indonesia, Denmark, Slovenia, Luxembourg, Austria, China and the Netherlands.
So, the safest countries in the world – Azerbaijan also has a list
Azerbaijan is included in the list of 20 most secure countries in the world for crime rates. The ranking by the Numbeo resource, which has the world's largest statistical database of countries and cities.
According to a survey by 125 countries, Azerbaijan is ranked 18th in the list of the safest countries in the world. Qatar, Singapore, Austria, UAE, Hong Kong, Georgia, Japan, Denmark and Belarus are in the top ten.
Venezuela, Honduras, South Sudan, South Africa, Nigeria, Brazil and El Salvador are among the most criminal countries.