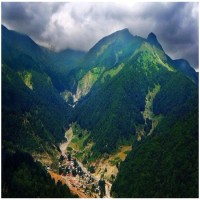 Gabala Tourism
This region is one of the most popular and incredible tourist destinations of Azerbaijan Republic as an ancient history. Many foreign art masters, diplomats and tourists are well aware of Gabala region.
The number of guests coming to Gabala rising day by day. Beautiful nature, modern infrastructure and the implementation of large projects give impetus to the cultural life of the region and the development of the social economy. Therefore, the city of Gabala will be as the "tourism capital of the Islamic world" in 2020.
Opening of the first phase of the Tufan Mountain-Skiing Summer-Winter Recreation Complex in Gabala at the beginning of 2014 – January 3, the participation of President of Azerbaijan Ilham Aliyev and his wife Mehriban Aliyeva in the opening ceremony of the complex. reaffirms the high care and attention paid to it.
Gabala Tourism
Even in 2002, when our national leader, Heydar Aliyev, visited Gabala, he expressed his admiration for the beauty of the country and compared the nights of Switzerland to the Swiss nights. Since that time the foundation of the prosperity of this region has been laid. The worthy successor of the national leader Heydar Aliyev is the result of the successful policy of President Ilham Aliyev, which, like every region of the country, is now rapidly developing. Such extensive development and rich tourism potential make it possible for Gabala to become a major tourism hub in the world in the coming years.
Today there are 4 five-star hotels near Gabala with simultaneous reception of more than 2000 guests. There are also small hotels, a few recreation centers and a tourist base for family relaxation in the area. The charming nature, natural resources, human potential and hospitality of the region and the high level of service have also made Gabala a beautiful place.
Due to the variety of tourism and leisure complexes in Gabala, both the poor and the rich can rest in the area today. The cost of a day's rest here varies from 20 to 500 manat depending on location and level of service. Anyone can choose a location that suits their pockets. Even for those who own a car, travel to mountainous areas is possible.