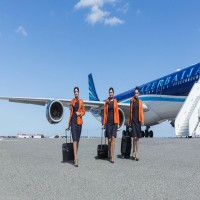 New campaign of Azerbaijan Airlines
on Baku-Dubai-Baku flights
Azerbaijan Airlines has appointed new price for the tickets for Baku-Dubai-Baku direction till 1 December 2016.
According to the information of company, bilateral ticket price will be 188 euro. The price includes all taxes and fees.
In addition, the ticket price includes 23 kg free of charge the cargo transportation, as well as hot and cold dishes.
AZAL's flights from Baku to Dubai, twice a day on comfortable airliners.
About New campaign of Azerbaijan Airlines Azerbaijan Airlines (Azerbaijan Airlines)
Located at the Heydar Aliyev International Airport, the capital of Baku, the largest and largest airline company in Azerbaijan. The official airline of Azerbaijan, made its first flight in 1992. Why is a firm that prefers to have a large number of men in Turkey The airliners of the airliners, which have been developing continuously, have flown over 29, this fleet of four aircraft A319, 7 acet A320, 3 acet A340, 2 acet B757, 2 acet B767; Direct flights to Istanbul from Istanbul Airport are carried out. Azerbaijan Airlines ticket prices are very affordable.
Azerbaijan Airlines Flight Check-In Operations
Passengers within 45 minutes of departure, take off flights are within 60 minutes of flight departure check-in from the airport. You can also make online check-in over the Azerbaijan Airlines website. Check-in, which starts at 48 hours before flight, last until the last 2 hours.
Baggage Hacking and Collection
Freelance luggage varies depending on the ticket class. 23 kg of passengers flying in the economy class, and 32 kg in the upper class passengers. Extra € 25 for extra fur. There is a limit of 10 kg in hand luggage.
The choice of non-custom seat seats on Azerbaijan Airlines flights can be made free of charge over the web sites. Seats in the emergency exit doors are not optional.
Airlines Flight Ticket Service
Tickets for Azerbaijan Airways are available for booking services starting at $  per ticket.
Provides passengers with free service to eat, drink. With the option of 3 different menus, you can change the service size depending on parkour