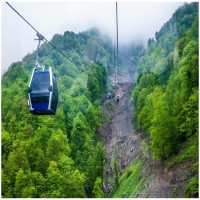 Ropeline in Gabala Azerbaijan
This recreational and tourism facility location is about 4 km from the city of Gabala. Creating a winter recreational area, such as the construction of a complex for mountain skiing near the hotel. As well as excursion in all seasons and other leisure facilities, will also enable you to engage in winter sports nearby.
Ropeline in Gabala Azerbaijan The complex location is approximately 4 km from Gabala. The wing road and the ski complex consisting of 8 stations. The first station is 950 meters above sea level and the latter is 1920 meters above sea level.
The opening of the first stage of the complex was on January 3, 2014 with the participation of President Ilham Aliyev and his wife Mehriban Aliyeva. The head of state comes the complex during his regular visits to Gabala and with the course of construction work here.
A huge infrastructure was in the complex, protection measures to prevent highway traffic and landslides.
Within the first phase of construction of the complex, 4 wing lines were fully put into operation. And also the construction work is underway in five of the 10 ski routes. The total length of the 10 runways to be built is 18,000 meters.
Ropeline in Gabala Azerbaijan
There are also restaurants with all conveniences for tourists' rest.
In general, this huge leisure area allows tourists to go for wings, to go skiing in winter. As well as to use ski school, hotel and other services throughout the year.
The entire skiing track is with an artificial snow generation generation system. In total, the Complex has the capacity to serve up to 3,000 people a day.
Ropeline in Gabala Azerbaijan The fact that tourists have the opportunity to choose the route system according to them is one of the important factors of the complex's importance. Thus, each visitor can choose the route according to the landing strip, degree of difficulty and degree of difficulty.
Works are underway to create all the facilities for comfortable recreation for the people, including hotels, offices, children's recreation areas and other facilities.